NOTICE: Due to COVID-19 and the mandates by the DC and federal government, Loaves and Fishes will not be accepting volunteers until further notice. We take any and all public safety concerns across the region and country seriously, and will continue to serve people in need with a no-contact bagged lunch to go on Saturdays and a hot meal to go on Sundays.
We are always looking for ways to continue to support people in need of meals, and, therefore, encourage you to donate to Loaves and Fishes. This will help us serve people in need during and after the outbreak.
Please continue to follow us on our website or on Facebook for updates to our volunteer schedule.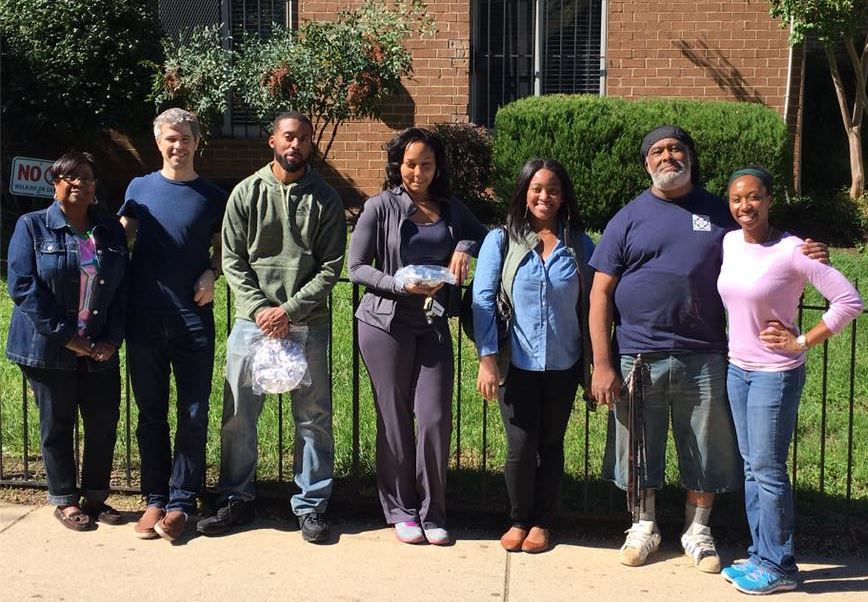 Volunteers are the cornerstone of our program. We are happy to accept both one-time and regular volunteers and have a need most weekends and federal holidays.
SERVERS: work from 10 am to 1 pm each day we are open on Saturdays, Sundays and federal holidays, setting up and cleaning the dining room and kitchen, and serving each seated guest. This opportunity for individuals and groups is available to both one-time and returning volunteers.
KITCHEN VOLUNTEERS: work from 9 am to 12 pm, cooking and plating food and assisting in the dining room. Generally, kitchen staff are groups of returning volunteers who commit to cooking one day each month.
---
TO VOLUNTEER: If you are interested in volunteering as an individual or a group, please sign up below to confirm your attendance for one of our available volunteer slots within 48 hours of the scheduled weekend or holiday. If you have a group of 10 or more who's interested in volunteering and/or sponsoring a meal, please contact our Volunteer Services team at (202) 596-5147 or by email at volunteer@loavesandfishesdc.org .
For future volunteer dates, sign up spots will be available by the 15th of the current month for the next month. Please continue to check the volunteer sign up page periodically for future dates.
We will send reminder emails five days before your scheduled shift and one day before your scheduled shift.
TO CANCEL: If you sign-up for a shift and can no longer make it, please email volunteer@loavesandfishesdc.org to remove your name from that date. Understanding that emergencies and other conflicts may arise, we request that you make all cancellations at least 48 hours before your scheduled shift when possible. This helps us make sure we have appropriate coverage in the kitchen!
---
Current Volunteer Sign-up Sheets
No sheets currently available at this time.
ADDITIONAL DETAILS:
Children who are accompanied by a parent are welcomed.
If any students are looking to complete SSL hours, they must stay for the entire shift.
Volunteers must wear closed-toe shoes for safety purposes. Additionally, we prefer if volunteers have a sleeved t-shirt (no tank tops).
Hair nets, gloves and aprons are provided. If you would prefer not to wear a hairnet, your hair must be covered completely somehow.
Please feel free to bring your own water.
Donations are welcomed; please reach out to Volunteer Services via phone or email to confirm what donations are needed.