Spring 2021
Dear friend of Loaves and Fishes:
Loaves and Fishes was born during a crisis.
In early March, the Loaves and Fishes management board gathered virtually in a retreat over two Saturdays. To remember our roots and core purpose, we opened the retreat with a review of the program's history. Bill MacKaye, who has a long history with St. Stephen and the Incarnation and Loaves and Fishes, explained that the program began in 1968 from two motivating forces: the civil uprising in the city following the assassination of Martin Luther King Jr., which lead to the closing of grocery stores and other shops. People in the suburbs were purchasing groceries and bringing them to St. Stephen's, which quickly became a distribution point for people lacking access to food.
In the international crisis of 2020 (now extending into 2021) – the Coronavirus Pandemic – the needs of the community and function of the program are nearly the same as they were in the city's crisis of more than 50 years ago. Neighborhood residents still lack access to food, but this time due to unemployment and physical distancing. And Loaves and Fishes is still meeting those needs.
Denize Stanton-Williams, Loaves and Fishes' director of operations, reported during Christmastime last year: "It's been a fruitful end of the year for us – that we can touch so many different people. That means a lot." She and volunteers served a special meal of chicken and scalloped potatoes on Christmas. Volunteers provided gift cards to share with visitors. One community group brought hats and scarves to give away, while other volunteers came to wrap them in Christmas paper. One generous individual who volunteers with her daughter gave money to buy more than 100 blankets to give to visitors.
The end of the year is always the most abundant time for monetary and in-kind donations for Loaves and Fishes. But as we have moved into 2021, the public health crisis – and the economic and employment crises it has created – have not gone away. Many neighborhood residents, many of them immigrants who are undocumented, remain unemployed. Their children are still not attending school in person, where they can often get meals as part of school breakfast and lunch programs.
Loaves and Fishes, born out of necessity in the 1968 crisis, is now a mature program and is filling the hunger gap in today's crises. This is happening today thanks to you and your support. Your donations allow Loaves and Fishes to feed hundreds of people every weekend and federal holiday, when many other programs in the city are not available.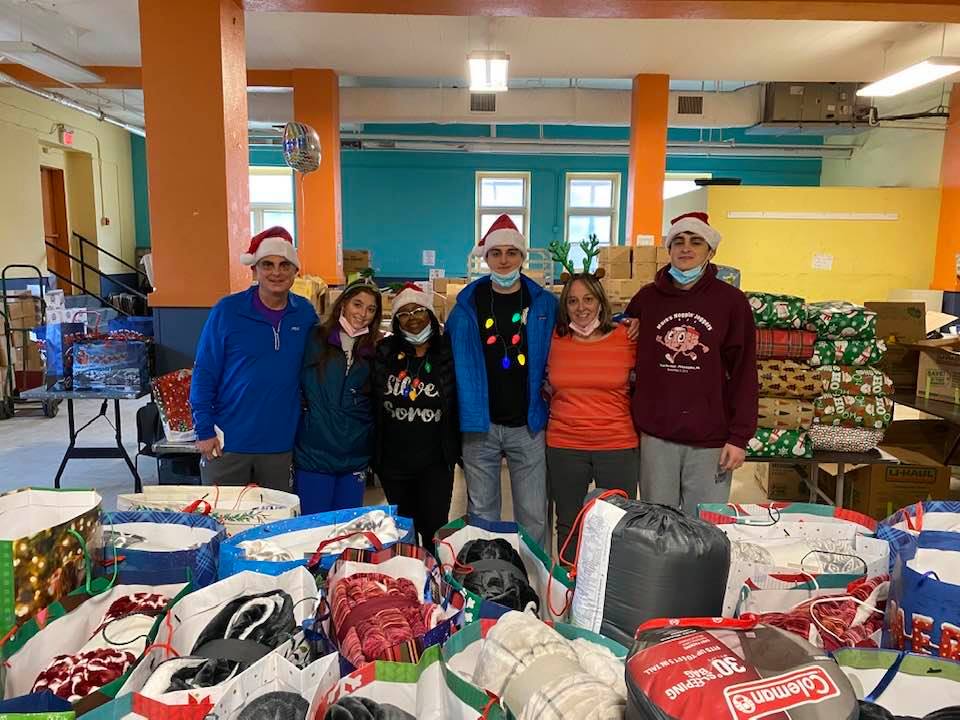 But even as a 50-plus year-old program, Loaves and Fishes can be spry and adaptable. The pandemic has required it. Restricted from serving hot meals inside the building, volunteers provided visitors with sandwich lunches to go for several months last year. The program provides bags of groceries for visitors to take home. And it has provided gift cards from time to time for people to purchase their own groceries. At a recent distribution, 297 residents of three apartment buildings near the church each received a $50 card.
Crises often bring out the best in people. This crisis, as was the case during the one in 1968, was a time of neighbor helping neighbor. Many of us have not been hurt economically or employment-wise by the pandemic, and so we are in a position to help families in a financial and hunger crisis.
Please give today so that we can go into these continued months of the pandemic crisis as strong as we did at Christmastime. This is the season of Easter, a time when the church celebrates resurrection and life. Your gifts to Loaves and Fishes are a tangible sign of that resurrection and life – sustenance and hope in the midst of crisis.
With Easter joy,
Nigel Collie
Chair, Loaves and Fishes Management Board
P.S. Because St. Stephen and the Incarnation is still not holding worship services inside its building, it did not hold its annual weekly collection for Loaves and Fishes during Lent (parishioners may remember the envelopes slipped into the worship bulletin each week). You can still send your Lenten gift today and help us catch up on this shortfall in our budget.