Fall 2021
Dear friend of Loaves and Fishes:
When you see people who are homeless on the street, do you walk by without looking at them? Do you quietly wonder if people who are hungry should take more responsibility to provide for themselves?
It's often easy to not see others in need as what they are first—people. They are people who may have medical conditions—physical or mental—that impact how they live or earn a living. Or people who are unemployed. Or people who are just going through a rough patch in their lives due to bad luck. It's often easier to turn away from people who are in need, to distance ourselves from people who are not as well-off as we are.
Mary Lee Barker saw the true humanness in others, especially those who came to Loaves and Fishes for a meal. Mary Lee was a parishioner at St. Stephen and the Incarnation Episcopal Church, which runs the program. She died recently and left a large amount of money to Loaves and Fishes in her estate. But her legacy goes beyond her generous financial support, especially in the unique ways she touched the program's guests.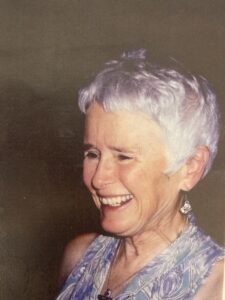 For an article about her in July 1999 in a Washington Post column called Portraits of Poverty, Mary Lee told the reporter that it's easy to write a check and walk away and that it's much harder to establish a relationship and stick around. The way she connected more deeply and saw the humanity in people was by painting portraits of some of the guests at Loaves and Fishes. She also sometimes played her cello or sang in the dining room. In painting the portraits of the men and women at Loaves and Fishes, the profile read, Mary Lee had "found meaning in her privileged life."
Mary Lee was from the family that founded the company that became Whirlpool, and she inherited a large part of that wealth. Yet she lived and dressed modestly. She eventually found her way to St. Stephen's and Loaves and Fishes. "Barker always wrote big checks to her church and to various anti-war and social action causes," the Post profile reads. "But gradually she realized that, instead of just participating in protests or being seen as one more wealthy donor on a dozen lists, she wanted to make a deeper human connection. To feel Christ's presence in her life, she felt she needed to open herself to suffering."
"This lack of a wall between me and the poor was God's gift to me," she said. An admirer of her portraits was quoted in the article: "She captures people's dignity."
I am inspired by Mary Lee and her generous and poignant ways of connecting with the people at Loaves and Fishes. The program's Management Board is extremely grateful to her for her financial bequest. She is an amazing example of giving and sharing of herself with people in need—and truly connecting with them.
Of course, not everyone can be like Mary Lee. Not all of us have enormous financial resources to share with our favorite charities. Not all of us have a talent like painting, singing or playing an instrument to connect with other people or use for the benefit of people in need.
But what we can emulate is Mary Lee's generous heart and desire to connect with people who are hungry, poor, ill or in some need. Your support of Loaves and Fishes through your donation enables the program to do what Mary Lee did: treat guests like the people they are, meet the most basic of their human needs—food and nutrition, offer guests a bit of respite, such as a warm place to hang out on a cold winter day, and treat them with dignity.
Can you give a gift to Loaves and Fishes in memory of Mary Lee? Would you honor her legacy with the program by sending your donation today?
And after we emerge from the pandemic and open up the dining room fully again, I invite you to come in person to volunteer. While you're here, you can take some time to get to know some of the Loaves and Fishes guests.
I am grateful for people like Mary Lee and you who support Loaves and Fishes and care about its guests.
With appreciation,
Nigel Collie
Chair, Loaves and Fishes Management Board
P.S. After you're gone, how do you want to be remembered? Do you want to leave a legacy of generosity, of helping people in need? Start establishing a legacy now like that of Mary Lee, one of Loaves and Fishes' biggest supporters, by mailing your gift in the enclosed envelope or giving online.