Summer 2021
Dear friend of Loaves and Fishes:
Summertime, when the livin' is easy…
We all know the refrain to this popular piece by George Gershwin. It characterizes this time of year, when many of us will take advantage of our new vaccination status to get away on vacation. Or we will take some time off work to relax and enjoy some lazy days. The weather is warm and sunny, and our mood is lighter as we emerge from many months of social isolation due to the pandemic.
But for many people in our community, the living isn't easy. The burdens of life are heavy year-round, and unemployment or economic hardship persist. Hunger doesn't go on a summer vacation. Food and nutrition are daily needs that families can't take a break from.
Loaves and Fishes won't go on vacation this summer. This vital feeding program didn't take a break for the holidays last year, and we didn't let the pandemic shut us down. Throughout the seasons, every weekend, Loaves and Fishes provides nutritious food for hundreds of people in the neighborhood who are hungry.
Summertime is usually a slow season for people, workplaces and churches. Parishes like ours, St. Stephen and the Incarnation, which operates Loaves and Fishes, often experience a decrease in giving from members and visitors as worship attendance dips. As we have entered the summer months, we have noticed a return to this normal cycle of income for Loaves and Fishes after many of you stepped up with an extraordinary amount of giving during the pandemic in 2020. The program's income has slowed in the past several weeks.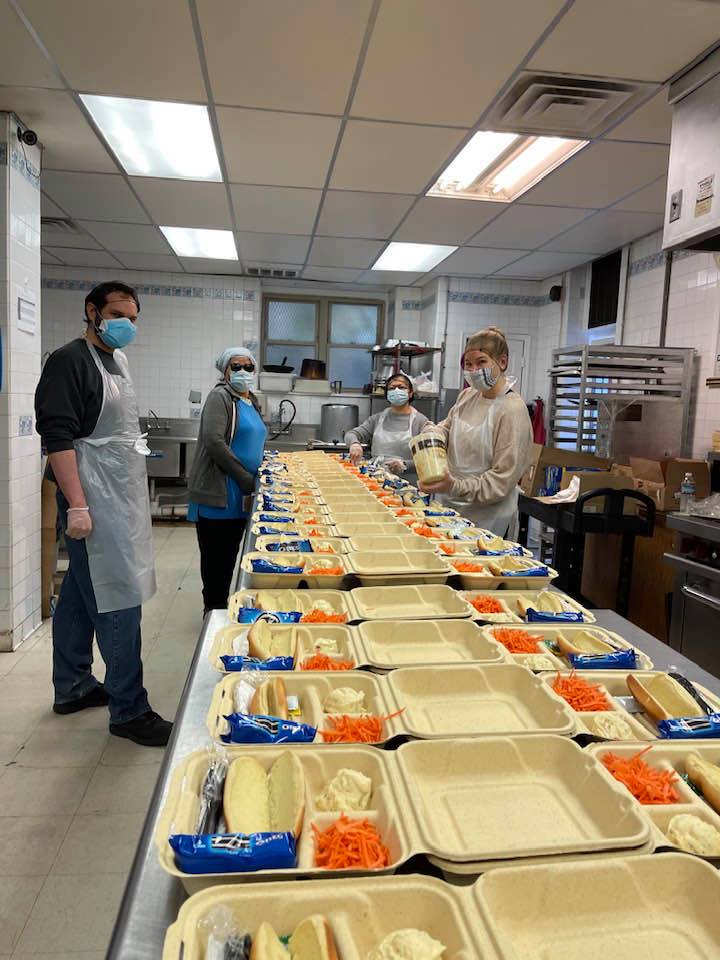 Yet week in and week out, Loaves and Fishes wants to be open—has to be open—to provide for the needs of people who are hungry in our community. That means there are expenses every week—including the summer months, when income is typically lower.
In fact, there is still a lot happening at Loaves and Fishes:
The program hosted a pop-up COVID vaccination clinic on Saturday, June 26 for three hours. Loaves and Fishes guests are part of the hard-to-reach population that city officials are endeavoring to vaccinate, and one of the biggest hurdles to re-opening the dining room for in-person meals is the lack of vaccinations among guests. This on-site clinic is helping to remedy this situation and provided a valuable public service.
One of the refrigerators in the kitchen, at least a decade old, stopped working. It made financial sense to purchase a new one instead of repairing it.
Staff and the management board are talking about and carefully considering how and when to return to a normal way of operating as the situation with COVID improves.
In the meantime, the work of staff and volunteers continues joyfully every Saturday and Sunday morning and every federal holiday. Many long-serving kitchen volunteers are returning now that they are fully vaccinated. All of these activities are able to happen because of your support. The program is steady week after week, month after month and year after year because of you.
With your continued support, Loaves and Fishes doesn't have to take a summer break, and we can continue to be a dependable source of food on which so many people in our neighborhood depend. Will you please give generously this summer and not forget the people for whom the living is not easy? You can give online now.
With best wishes for a safe and relaxing summer and with thanks for your ongoing support,
Nigel Collie
Chair, Loaves and Fishes Management Board
P.S. Income in the summer months is typically lower for churches and church programs like Loaves and Fishes. But hunger doesn't take a vacation. Please give now so we can continue to provide weekly food distributions to people in our neighborhood.